UMC 2016
Resource and Environmental Assessments
for Seafloor Mining Development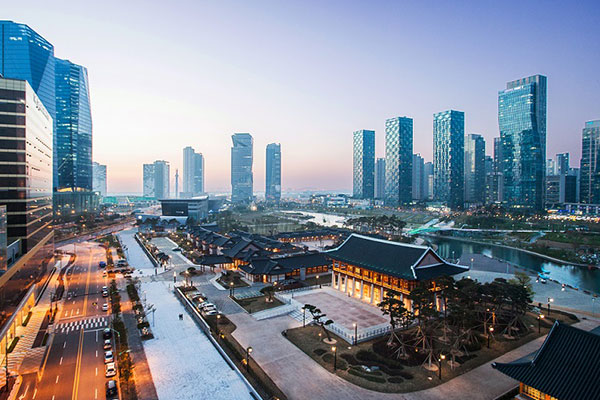 45th Underwater Mining Conference
October 9 through 13, 2016
Orakai Songdo Park Hotel
151, Techno park-ro, Yeonsu-gu
Incheon • South Korea
The 45th Underwater Mining Conference is presented by the International Marine Minerals Society in partnership with the University of Hawai'i, Ministry of Oceans and Fisheries (Korea), and KIOST (Korea Institute of Ocean Science and Technology). We will continue the well-tested format of the conference, which brings together world leaders from government, academia and industry to exchange information and ideas on underwater mining.
Our technical focus in 2016 is Resource and Environmental Assessments for seafloor mineral development, with a focus on deep-sea projects. This is an exciting time for the commercial development of seafloor minerals. In terms of 2016 activities, already we have seen the delivery of the deepwater production tools for Nautilus' seafloor massive sulphide project in Papua New Guinea. Also in 2016, the International Seabed Authority is planning to release draft regulations to allow and manage commercial recovery of minerals from areas beyond national jurisdiction. We welcome presentations that examine the quantitative extent and potential commercial viability of these deposits as well as those that address the important issues related to environmental assessment and protection. As always, other timely and significant topics related to marine minerals are also welcome.
The conference will start on Sunday, October 9 with an evening registration and reception, followed by two days of technical sessions, including a poster session and banquet. A two-day technical field tour will commence thereafter.
Mark your calendars to join us in Korea—the Orakai Songdo Park Hotel is a 5-star high-rise hotel with modern meeting and lodging amenities and floor-to-ceiling windows with ocean, park or city views. Korea provides a dynamic blend of traditional and modern venues and activities. The field tour will provide technical attractions (marine mining, power generation and other topics), as well as cultural insights to Korea's rich historical heritage.
Key Deadlines
Call for Papers (abstract submissions): May 31, 2016.
Hotel Registration: August 31, 2016.
Conference Registration: August 31, 2016.
Important Updates and Forms
Conference Contacts
Technical Program Chair
Dr. Samantha Smith, President
International Marine Minerals Society
Technical Program Host
Ministry of Oceans and Fisheries (Korea)
and KIOST (Korea Institute of Ocean Science and Technology)
Conference Coordinator
Karynne Chong Morgan
University of Hawai'i
1000 Pope Road, MSB 303
Honolulu HI 96822
Tel: +1 808.956.5095
Mobile: +1 808.295.9418
[ Top of this page ]