UMI 2012
Marine Minerals: Finding the Right Balance of Sustainable Development and Environmental Protection
The 41st Conference of the Underwater Mining Institute
October 15–20, 2012 • Tongji University
Kingswell Hotel Tongji Shanghai (formerly Days Hotel) • Shanghai, China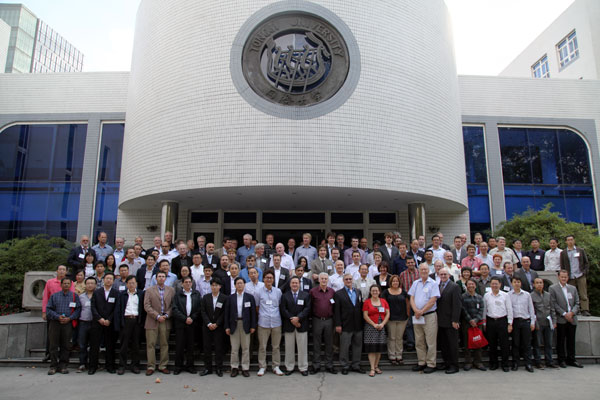 October 15 (Monday):
Registration Reception at the Kingswell Hotel Tongji Shanghai (20:00–21:30)
October 16 and 17 (Tuesday and Wednesday):
Technical Sessions, and Banquet (17th). An optional cultural event on the 16th and a spouses tour concurrent with the technical sessions on the 17th are also being planned for at additional cost.
October 18 through 20 (Thursday, Friday and Saturday):
Geotechnical Field Tour (optional at additional cost for 3 full days and nights—two different hotels along the way and return to Shanghai for the last evening) to include the Xinqiao Cu-S-Fe-Au deposit in the Tongling Mineral District and other stops.
Technical Program Chair:
Dr. Charles L. Morgan
Technical Program Co-chair and Host:
Dr. Huaiyang Zhou
School of Ocean and Earth Science, Tongji University, Shanghai
Sponsors
[ Top of this page ]
UMI 2012 Call for Presentations
The Underwater Mining Institute is seeking presentations that are focused on the following topics:
Environmental baseline and monitoring technologies and results
Benefit cost evaluations of seabed versus land-based mining for specific commodities
Strategies and methodologies for achieving sustainable seabed mining projects
Others of technical interest to seabed minerals
The rapidly increasing demand for minerals in recent years has led to rapidly increasing prices, particularly of many base metals that are found in seabed deposits. Many private and government-sponsored marine mineral exploration efforts are ongoing in efforts to respond to this increasing demand with new sources minerals. As we anticipate new commercial seabed mining operations in the near term, it is critical to ensure that such activities take place with due consideration for all resources that could be impacted, including mineral, biological, economic, cultural, and other resources. Presentations that focus on the strategies and methods to be used to address these considerations would be welcome at this year's Institute. Other relevant topics of timely interest are also welcome.
The 2012 UMI will be hosted by Tongji University in Shanghai, China, October 15–20, 2012 and supported in part by the China Ocean Minerals Research and Development Association (COMRA). Shanghai is the largest city in China and one of the largest cities in the world. Tongji University is one of the leading universities in China and a leading center for marine science. The State Key Laboratory of Marine Geology is located on campus. The Ocean Science and Environmental Research Center of COMRA is also on campus. Tongji University plays a key role in many Chinese deep-sea research fields. The Kingswell Hotel Tongji Shanghai is offering a special discounted room rate for UMI participants and is a convenient ten-minute walk to the campus conference center where the Institute will be held.
A special cultural activity and a day tour for spouses and guests are optional features of the UMI as well as a geotechnical field trip associated with Institute will explore active mines and other interesting sites.
Please consider participating in what is certain to be another highly productive and unique UMI experience.
[ Top of this page ]
Abstract Submission Instructions
Abstracts should be submitted online at the IMMS of SME website as follows:
Go to IMMS of SME (link revised 04-30-12)
Click on Abstract Submission
Under "Please choose the Meeting Name", select Underwater Mining Institute
Continue to complete form and submit your abstract
The deadline for submission is July 15, 2012. The selection of presentations and notification of authors will be completed by July 30, 2012.
For commercial exhibits, please contact the Conference Coordinator for information.
[ Top of this page ]
Conference Contact Information
Technical Program Chair
Dr. Charles L. Morgan
Technical Program Co-Chair and Host
Dr. Huaiyang Zhou
State Key Laboratory of Marine Geology
Tongji University, Shanghai
Conference Coordinator
Ms. Karynne Morgan
University of Hawai'i
1000 Pope Road, MSB 303
Honolulu HI 96822
Tel: +1 808.956.6036
Fax: + 1 808.956.9772

[ Top of this page ]