UMI 2013
Recent Developments in Atlantic Seabed Minerals Exploration and Other Topics of Timely Interest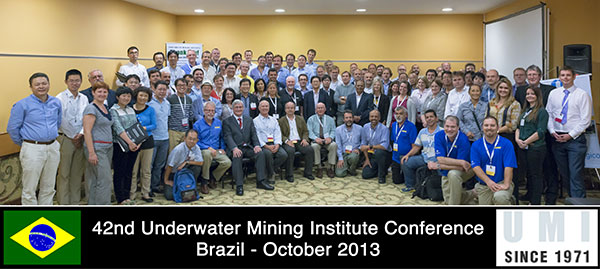 The 42nd Conference of the Underwater Mining Institute
October 21–29, 2013 • Rio de Janeiro, Ouro Preto, and Porto de Galinhas • Brazil
Important updates for UMI Participants
Updated information and forms needed for the UMI (PDFs unless otherwise noted):
Windsor Plaza Hotel, Copacabana (meeting location and hotel) and Windsor Excelsior Hotel (additional hotel rooms), Rio de Janeiro, Brazil. Deadline for hotel reservations is August 9, 2013 (note new date).
Key Deadlines
UMI Registration Deadline: August 31, 2013. Late registration accepted to September 30, 2013.
UMI Ouro Preto Field Tour Registration Deadline: August 31, 2013. Now closed.
Very Important: Rio Hotel Reservations Deadline: August 9, 2013. Now Closed.
UMI Industry Strategic Planning in Porto de Galinhas Registration Deadline: August 31, 2013.
Now closed.
Meeting Dates
October 21 (Monday): Registration Reception at the Windsor Plaza Hotel, Copacabana (7:00 to 9:00 pm)
October 22 and 23 (Tuesday and Wednesday): Technical Sessions and Banquet (23rd).
October 24 through 26 (Thursday, Friday, Saturday return to Rio): Geotechnical tour to three mining sites (black gold, iron, and gold) in Ouro Preto area. Involves air travel; 40 persons maximum.
October 26 through 29 (Saturday travel to Recife, Sunday, Monday, Tuesday departures): Special — UMI Industry Strategic Planning Meeting in Porto de Galinhas (airport is located in Recife). A post-conference meeting open to all participants is being offered at a unique venue on what is considered Brazil's best beach (optional at an additional cost). Download the PDF with details.
Technical Program Chair:
Dr. Charles L. Morgan
Technical Program Co-chair and Host:
Dr. Roberto Ventura Santos
Director, Geology and Mineral Resources, Geological Survey of Brazil (CPRM)
Field Tour Proposal (PDF) and Field Tour Payment Authorization Forms (PDF). DEADLINE FOR SUBMISSION is SEPT 6, 2013 by email to Jane Silva at jane.silva@bbtur.com.br.
[ Top of this page ]
Sponsors
Diamond Sponsor
Platinum Sponsors
Gold Sponsor
Silver Sponsors
Other Sponsors
[ Top of this page ]
UMI 2013 Call for Presentations
The Underwater Mining Institute is seeking presentations that are focused on the following topics:
Southern Atlantic marine mineral deposits
Benefit cost evaluations of seabed versus land-based mining for specific commodities
Strategies and methodologies for achieving sustainable seabed mining projects
Other topics of timely interest to the exploration, commercial development, or scientific study of marine mineral resources
The 2013 UMI will be hosted by the Geological Survey of Brazil (CPRM or Companhia de Pesquisa de Recursos Minerals), the official government agency for gathering data and information on Brazilian geology, minerals and water resources. The conference dates are October 21-25 in Rio de Janeiro, Brazil and the Windsor Hotel, Copacabana will serve as our venue for both the conference and hotel accommodations.
An evening cultural activity and a day tour for spouses and guests are optional features of the UMI, as well as a geotechnical field trip that which is always well attended.
Special for UMI 2013 is a post-conference meeting open to all participants on Industry Strategic Planning to be held in Porto de Galinhas, October 26-28, about 2300 km northeast of Rio. Porto de Galinhas has been voted the "best Brazilian beach" for the beauty of its natural pools, ecological trails, excellent hotels, and proximity to Recife—sometimes referred to as the Brazilian Venice. (The special UMI hotel rate will be extended for personal stays beyond the meeting.)
We are excited to be offering our first South American destination to our marine minerals participants. Please join us in Rio de Janeiro and Porto de Galinhas. These will be the colorful backdrops for another highly productive and unique UMI experience.
[ Top of this page ]
Abstract Submission Instructions
Please submit your abstract by email to the UMI Conference Coordinator. A general UMI Abstract template (.docx file) is provided to assist you with the following format.
Title of Presentation
Author(s) Name, Title, Affiliation, Mailing and Contact Information
Format and Length: WORD document (.docx preferred), not to exceed 10 pages, including figures and tables.
Biographical Sketch of Principal Author and Speaker: ˝-page narrative and portrait photo of each.
A list of keywords
Preference for an oral (~25 minutes) or poster presentation
A statement providing your permission, or not, to archive the abstract (PDF) with OneMine.org (digital library for minerals and mining) at the conclusion of the UMI.
The deadline for submission is May 31, 2013. The selection of presentations and notification of authors will be completed by June 30, 2013.
For commercial exhibits, please contact the Conference Coordinator for information.
[ Top of this page ]
Conference Contact Information
Technical Program Chair
Dr. Charles L. Morgan
Technical Program Co-Chair and Host
Dr. Roberto Ventura Santos
Geology and Mineral Resources
Geological Survey of Brazil, Rio de Janeiro, Brazil
Conference Coordinator
Ms. Karynne Morgan
University of Hawai'i
1000 Pope Road, MSB 303
Honolulu HI 96822
Tel: +1 808.956.6036
Fax: + 1 808.956.9772
[ Top of this page ]