UMC 2019
The World's Largest Gathering of Ocean Mineral Stakeholders
Sustainable Development of Seabed Mineral Resources: Environment, Regulations and Technology
海底矿产资源的可持续开采―环境、规则与科技
UMC 2019 attendees at the JW Marriott Hotel Sanya Dadonghai Bay. Click on it to see a larger version.
48th Underwater Mining Conference
世界海洋矿产大会
September 22 through 27, 2019
JW Marriott Hotel Sanya Dadonghai Bay
Sanya City, Hainan, China
Reminder!
The UMC 2019 smartphone app for Android and Apple iOS contains the event schedule as as well as the speakers information. Some other features include helpful redirection links for other information on the event itself and travel accommodations.
Regular Registration extended through August 31, 2019
Late Registration is September 1 to 10, 2019
On-Site Registration Fee is USD 1000
Hotel Registration by August 31, 2019
and see

New!

items below for Important Updates and Forms
Welcome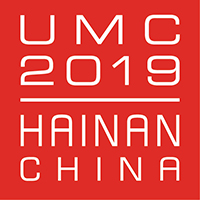 The 48th Underwater Mining Conference is presented by the International Marine Minerals Society (IMMS) in partnership with the Institute of Deep-Sea Science and Engineering (IDSSE), located in the tropical resort city of Sanya City, Hainan, China. We will continue the well-tested focus of the conference, which brings together world leaders from government, academia and industry to exchange information and ideas on all aspects of underwater mineral exploration, environmental research and mining.
This year, we start with an evening welcome reception and registration on Sunday evening, followed by an expanded three-day technical session with 25-minute presentations. A fourth day has been added to include commercial and special-interest 1 and 2-hour workshops. The fifth and final day of UMC will be our field tour either to the Shilu Iron Ore mine or to the Areca Valley Ethnic Minorities Village.
The JW Marriott Hotel Sanya Dadonghai Bay serves as our conference venue and primary lodging for participants. The waterfront amenities and rooms are first class and the rates are specially discounted for UMC guests, with five star rooms starting at only US $105/night. There are hundreds of shops, restaurants and sights within easy walking distance of the hotel as well as a beachfront boardwalk next to the hotel that stretches over a mile — filled with colorful local eateries and bars. An added feature this year will be onsite interpreters for English-Mandarin translations, as we expect approximately half the attendees to represent Chinese companies and institutions.
This year's Technical Program Chair is Dr. Charles L. Morgan of Moana Hohonu Consulting LLC based in Hawai'i. Our host and Technical Program Co-Chair is Professor YANG Ning, Deputy-Director of IDSSE, who leads the deep-sea resource exploration laboratory.
In 2011 IDSSE was founded by the Chinese Academy of Sciences (CAS). IDSSE consists of three departments, the Deep-Sea Science Division, the Deep-Sea Engineering Division, and the Marine Equipment and Operations Management Center. The Deep-Sea Mining Subdivision and the Deep-Sea Resource Exploration Laboratory are key subdivisions within the Deep-Sea Engineering Division. In August 2017, CAS established the Institute of Deep-Sea Technology (IDST) within IDSSE.
Twenty (20) Free Student Registrations to the conference are being offered by IDSSE. See PDF below for application details.
The International Marine Minerals Society (IMMS) is a professional society whose members share a common interest in marine minerals. Founded in 1987, IMMS is the primary sponsor of the Underwater Mining Conference (UMC)—an annual international forum that since 1970 has brought the marine minerals community together. UMC is the world's largest gathering of ocean mineral stakeholders, including government, academic, and private professionals. Topics considered for inclusion in the conference include geological and biological studies of marine minerals deposits and their associated biological communities, regulatory considerations related to mineral resource and environmental impact assessment, technological considerations related to scientific survey objectives and commercial recovery objectives, and general policy considerations related to the long-term development of these resources.
[ Top of this page ]
Key Deadlines
Call for Papers Abstract Deadline: June 15, 2019
Conference Registration Deadlines:

Early Bird registration by May 31, 2019
Regular Registration extended through August 31, 2019
Late Registration is September 1 to 10, 2019
On-Site Registration Fee is USD 1000

Hotel Reservation Deadline: August 31, 2019
Important Updates and Forms
Conference Contacts
Technical Program Chair
Dr. Charles L. Morgan
Moana Hohonu LLC
Technical Program Co-Chair
Professor YANG Ning
Institute of Deep-Sea Science and Engineering
Chinese Academy of Sciences
IDSSE Host Representatives
Mr. XIAO Jianyu
Dr. CHEN Yuxiang
UMC 2019 Conference Coordinator
and for assistance and inquiries in Chinese
Jack Zhang
Executive Director
Karynne Chong Morgan
University of Hawai'i
1000 Pope Road, MSB 322, Honolulu HI USA 96822
Tel: +1 808.956-3184
[ Top of this page ]