UMI 2010 • Registration
Toward the Sustainable Development of Marine Minerals:
Geological, Technological, and Economic Aspects
The 39th Annual Conference of the Underwater Mining Institute
October 4–9, 2010 • Yuzhmorgeologiya • Gelendzhik, Russia
Click on Register Now button to the left (or click here)
Log in
Select UMI 2010 Conference (and follow the online registration and payment instructions).
Key Deadline Dates
Final UMI 2010 Program (6.7MB PDF, dated Tue 28 Sep 2010) available to download.
Online program of presentations now available.
Agenda
Monday, October 4, 8:00–9:30 PM: Welcoming Reception and Registration, Brigantine Hotel
Tuesday, October 5, 8:30 AM–6:00 PM: Technical Session I
State Scientific Centre Yuzhmorgeologiya (10-minute walk from the Brigantine Hotel)

7:00–9:00 PM: Russian Dinner (optional, additional fee). A restaurant terrace (30-minute stroll along the embankment) offers Russian-Ukraine cuisine and beautiful views of the Bay of Gelendzhik.

Wednesday, October 6, 8:30 AM–6:00 PM: Technical Session II

8:30–9:00 AM: International Marine Minerals Society General Membership Meeting
10:00 AM–2:00 PM: Safari Park Tour (for spouses and guests only, optional, additional fee, includes lunch) concurrent with the Technical Session
6:30–9:00 PM: UMI Banquet at YMG

Thursday–Saturday, October 7–9: Geotechnical Field Tour (3 days)
Three-day tour (optional, additional fee, includes admission, lunches, two dinners and field guide):

Thursday the 7th: Taman Peninsula, 10 hours
Friday the 8th: Zhane River Valley, 6 hours
Saturday the 9th: Sail Cliff, 4 hours, and Wine Tasting
[ Top of this page ]
Fees
Registration
Online registration will be available in May 2010.
The UMI fee schedule below provides for Regular and Late registration options, as well as a discount for members of the International Marine Minerals Society.
Regular Fee: Member USD 395, Non Member USD 430. The regular fee covers the welcoming reception, technical sessions and materials, UMI banquet, and 2011 membership to IMMS (USD 35).
Senior Fee: Member USD 350, Non Member USD 385. This fee is provided as a courtesy to retired professionals who are no longer supported by an institution or company. These participants are entitled to the welcoming reception, technical sessions and materials, UMI banquet, and 2011 membership to IMMS.
Single-Day Fee: Member USD 275, Non Member USD 310. This fee entitles the participant to one technical session on October 5th or 6th along with the associated materials and 2011 membership to IMMS.
Special Commercial Exhibit Fee: USD 1200. This fee allows for a company booth (1.8 m x 2 m) exhibit and one delegate to attend the UMI. Up to ten booths are available. Please contact the Conference Coordinator for details.
Student Fee: USD 325. The student fee includes the welcoming reception, technical sessions and materials, UMI banquet, and 2011 membership to IMMS. Students must provide verification of student status and be willing to assist during the conference.
Late Fee: A late fee of USD 25 is assessed for those registering after July 31, 2010.
Sessions / Other
Russian Dinner (October 5, Tuesday, 6:30–8:30 PM; meet in hotel lobby at 6:30 PM for 30-minute stroll to terrace restaurant): USD 40. Open to all participants, spouses and guests, this is an optional (additional fee) Russian-Ukraine dinner offering beautiful views of the Bay of Gelendzhik.
Spouses Day Trip Fee (October 6, Wednesday,10:00 AM–2:00 PM): USD 35. This feature of the UMI is open to spouses and guests only of UMI participants and will include a tour of Safari Park [greatest collection of exotic animals in the south of Russia and Medvezhiya (Bear) Cave with a panoramic view of the city]. The fee covers transportation, lunch, and admission.
Banquet Fee for Single-Day Registrants, Spouses, and Guests (October 6, Wednesday, 6:00–9:00 PM at YMG): USD 40. This fee applies only to single-day registrants, spouses, and guests of the UMI. (If you are a regular, student, or emeritus participant the banquet is included in your registration fee.)
Geotechnical Field Tour Fee (October 7–9): USD 260 per person. This is a 3-day tour to technical field areas of interest in the Gelendzhik area. Twenty openings are available for participants and their guests, and the fee covers bus transportation, admission fees, lunch and two dinners. Continuous stay at the Brigantine Hotel is at each participant's own expense.
Thursday, October 7: Taman Peninsula (active mud volcano province also containing deposits of natural gas and petroleum near Anapa and Temruk), 10 hours.
Friday, October 8: Zhane Valley (walking tour of megalithic sites including settlements and dolmen burials, Caucasian oak-hornbeam forest, and emerald-green waterfalls), 6 hours.
Saturday, October 9: Sail Cliff (sheer vertical slope confronting the seashore), 4-hour boat tour, weather permitting; tour ends after lunch and visit to a vineyard for wine tasting.
Deadline to register for this tour is July 31, 2010.
Book of Abstracts: One copy of the book of abstracts is provided to each participant; however, additional copies maybe purchased for USD 40.
Payments
Online registration will be available in May 2010. To complete your registration online. [First, Login with your email address and password (or create a new one), then click "Register for UMI"]. Only VISA or MasterCard payments are accepted online. The deadline for Regular Registration to the UMI is July 31, 2010, and registrations after this date will incur a late fee of USD 25.
Cancellations
Refunds (less a USD 30 processing fee) will be allowed for written cancellations (email or fax) received by August 31, 2010.
[ Top of this page ]
Travel to Gelendzhik
Entry Visa
Note: July 31 is the deadline for visa applications; please contact Elena Matveenko. YMG will assist participants in obtaining visas to Russia. Starting May 1, to receive the required official invitation (provides no travel funding) from the host institution, participants must email Elena Matveenko with: (1) a scanned copy of their passport (page with photo on it); (2) employment details (position, company name, address, phone/email/fax/website, if any); and (3) a country and a town of birth (if it's not stated explicitly in passport), a country and a town/region of constant residency; and a country and a town where they will apply for and receive Russian entry visa. After receiving the official invitation, participants should go to the Russian Consulate closest to their residence to obtain the necessary visa. From this point, it will take a month or more to receive a visa, so please act early.
Access Information
Russia's newest airport, in Gelendzhik, is now open. Please check with your travel agent for flights to the UMI that can take you directly to Gelendzhik.
To reach Gelendzhik most people fly from Moscow to Krasnodar (6 flights a day) or Anapa (4–6 flights a day). To avoid Moscow, other recommended flights include Vienna to Krasnodar (6 times a week) and Istanbul to Krasnodar (4–5 times a week). From Krasnodar it is a 3-hour drive to Gelendzhik and from Anapa it is a 2-hour drive. You can go by mini-bus (8–12 persons) or by car (4 persons) for USD 30-50 (USD 1 = approximately RUB 30) per person. Representatives of these transportation companies will meet participants at the airport.
Please note that only in International airports is English widely used, and in local airports, very few people will speak it and there are no signs in English.
Other
Currency: Once in Russia, all prices are quoted and paid in rubles (RUB). Currency can be converted at banks, hotels, or kiosks. Traveler's cheques are difficult to cash, and credit cards are accepted in most places that deal with tourists. ATM machines are widely available in major cities, but there are no letters on the keypad.
Time: Time is GMT +3 for Gelendzhik.
Electricity throughout Russia is 220 volt/50 Hz. The plug is the two-pin thin European standard and be sure to bring your own converter.
Tipping: This is increasingly expected at restaurants (10 to 15% depending on service).
Weather: We expect nice weather during the UMI where temperatures should be 15–22°C (59–72°F) with little to no rain.
[ Top of this page ]
Meeting and Hotel Venues
UMI 2010 will convene in the State Scientific Centre Yuzhmorgeologiya, 20, Krymsaka Street, Gelendzhik, Russia, a leading Russian scientific organization in many federal and international programs and in the offshore geophysical industry. YMG represents Russia in the International Seabed Authority where, as a Pioneer Investor, it has been granted rights to explore and develop 75,000 km2 in the Pacific Ocean containing large deposits of polymetallic nodules. YMG has also been performing comprehensive prospecting of the Magellan Seamounts for cobalt-bearing crusts.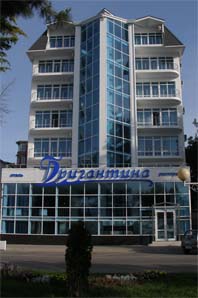 A short 10-minute walk from YMG, and along the embankment of Gelendzhik Bay, is the Brigantine Hotel (3-star) where UMI participants will stay.
Accommodations and rates are as follows:
Standard (single): USD 80
Standard (double): USD 100
Junior Suite: USD 130
Studio: USD 150
Breakfast is included.
To make a hotel reservation, contact Elena Matveenko with a copy to the UMI Coordinator. Information should include UMI Participant's Name, Type of Accommodation, Arrival and Departure Dates. A confirmation reply with payment instructions will follow under separate cover.
Deadline for Hotel reservations is August 15, 2010.
Other Hotel Details
Address: Gelendzhik, Revolyutzionnaya Street 377
Phone: +86 141 4-37-37, Fax 4-37-777
Email: info@brigantina-hotel.ru (please contact YMG Specialist Elena Matveenko if you need assistance with hotel matters)
Website: www.brigantina-hotel.ru
Check In: 13:00 (1:00 PM)
Check Out: 12 Noon
Amenities include:
balcony
satellite television
internet, for additional fee
telephone
refrigerator
safe
hair dryer
ironing facility
daily cleaning, if needed
[ Top of this page ]
Useful Links About the Area
About Gelendzhik
Zhane River Valley
[ Top of this page ]
For Speakers and Presenters
Please prepare one file for each presentation in Microsoft PowerPoint (PPT) format. This will be collected and downloaded by YMG specialists during the Welcoming Reception on Monday, October 4.
[ Top of this page ]
Conference Contacts
Technical Program Chair: Dr. Charles Morgan
Tel: +1 808 550-4539
Email: cmorgan@psi-hi.com

Technical Program Co-Chair: Dr. Georgy Cherkashov
Email: cherkashov@mail.ru

YMG Specialist (for visa and hotel assistance): Ms. Elena Matveenko
Email: matveenko@ymg.ru

Conference Coordinator: Karynne Chong Morgan
University of Hawai'i, 1000 Pope Road, MSB 303, Honolulu HI 96822
Tel: +1 808.956.6036 • Fax: +1 808.956.9772
E-mail: karynnem@hawaii.edu
[ Top of this page ]